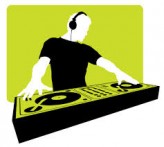 When it comes to choosing a DJ for your event it's not as simple as choosing someone who knows how to run an iPod. As someone who truly loves music of all types, I want a DJ who not only has an extensive music collection, but one who is lively and can keep my guests on the dance floor until they just can't boogie no more. No matter what type of event you're planning here are a few things to consider when choosing a DJ.
1.) Pick a DJ who listens to you.
This seems obvious, but it is very important. If you do not want heavy metal music played at your event, there should be no heavy metal music played at your event. You don't want any rap music? Done. A DJ should be willing to create a mix that caters to what you want and not force any type of music on you. A good DJ can do a fantastic job no matter what music they are playing or not playing. Some may suggest songs or artists they could incorporate into your playlist that they feel fits the vibe of your event. Be open minded to their suggestions, but do not feel obligated to include them if you don't not like them.
2.) Choose a DJ that fits your event.
On the same note of choosing a DJ who listens to what you want, you should be aware that some DJs better cater to a certain crowd. Some may cater to the hip-hop crowd, some cater to the indie rock crowd. Don't hire a DJ who plays the current Top 40 hits for a black tie event consisting of elderly adults. So although a DJ should listen to what you want, make sure that the DJ fits your type of event in the first place.  
3.) Do research with your ears and eyes.
Never choose a DJ you have not seen or heard. If you have not seen the DJ perform in person then you should be able to view videos of their work. If you meet with them and they do a short preview set for you that's even better. Do not take their word for how great they are. You need to hear and see what they can do to make the right decision. Check websites to find reviews. A good resource for reviews is Wedding Wire. Real customers are able to leave reviews for different categories of vendors, such as DJs, planners, photographers, and more. You should also meet more than one DJ. The same amount of thought and research you put into finding an event planner or caterer should be done for your DJ as well.
4.) Never have a friend, family member, or friend of a friend DJ your event (especially weddings).
Unless your friend or family member is a credible DJ and does this as a career. Otherwise, this is never a good idea. I've been to two weddings in the past six months who had a family friend DJ the reception and both turned out horribly for a multitude of reasons. Just do not do it. You can find a good DJ to fit your budget.
5.) Have a contract!
Always have a contract in place when booking a DJ. Read over it carefully multiple times to make sure all the details are correct (i.e. fees, time, etc.) and that you understand it completely. If you do not understand part of it or it does not seem correct, speak up right then. Do not sign on the dotted line until the contract is fully understood and you and your DJ are on the same page. This goes for all the vendors you hire for your event. Your vendors should be willing to go over every aspect of the contract, listen to your questions and concerns, and answer them honestly. If any changes come up you should contact them and get those documented in writing. If you decide to hire a family member or friend who is a credible DJ, you still must have a contract in place. If they do this as a career and are true business men or women they will not take offense to it.   Choosing a DJ should be a fun aspect of planning your event. You will surely meet lots of people who are energetic with big personalities. Have fun with it, but also remember that this is your event. You should choose a DJ you connect with, who is right for the job, and who is in your budget. So let the search begin and I'll see you on the dance floor!