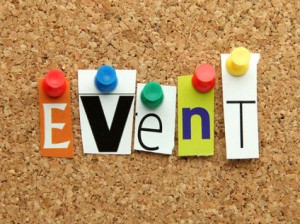 Planning any size event can be daunting! But don't fret! We at CEA are here to help! In this blog, you'll find some simple and helpful tips to make your next event run smoothly!
1.) Start early! – It's always a good rule of thumb to be earlier than later. You snooze you lose! Well, let's hope not. But the early bird does get the worm. And in the world of event planning, if you're on time, then you're late. You never know what little hiccup may occur so any extra time can be helpful. You should start the planning stage early and all the way up to the day of the event. We all know those people who like to show up to a party on-time, or even early! No one has ever looked back and said, "I wish I had less time to party!" So get a move on planning your event today!
2.)  Make a list & check it twice! – When you have an event, you want everything to go off without a hitch! Therefore, make sure you write down everything you need and check it over. You never want to overlook a small or big detail when it comes to planning an event. You can divide your list into categories and go from there. Some categories you may have are decorations, catering, party favors, transportation, and so many others. Whatever your party needs, make a list and check it as often as you need to ensure an amazing event!
3.) Have a plan B! – Things always come up! So be prepared for the unexpected and have a backup plan. If you're from Chicago, like I am; then you know that the weather can change in an instant! Having a second location in mind is always helpful. Also helpful is backup food options and entertainment. Being flexible is key in any successful event. Don't stress, just make sure to keep the end goal in mind. An event or a party is a celebration at the end of day that's all that matters.
4.) Have a limit! – Setting limits is always a good thing! You can indeed have too much of a good thing, therefore it's good to keep things balanced with limits. Limits come in all shapes and sizes. You can set a limit on how much you spend, budgeting is always very important. You can also set limits on the size of the event and the duration of the event. No matter what you're setting limits on, do so comprehensively.
5.) Be realistic! – Rome wasn't built in a day, you know? Therefore, don't stress yourself out by setting unrealistic goals. You're having a celebration therefore, relax and celebrate! But also be ready for anything that may come your way. Problems are inevitable, but handle them in a calm, cool and collected manner. Being proactive instead of reactive will get you and those around you through it. Thus, making the event a positive one.
Here's to planning accordingly and having a memorable event! Please feel free to call us if you need a helping hand! We're here to help.