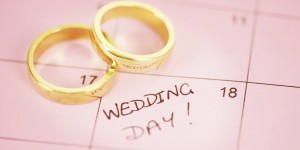 We are in the midst of wedding season! It is all around us! My boyfriend's sister, Dorothy and her fiancè, Kris are having a destination wedding in August that we'll be enjoying and my dear friend, Ellen is currently planning her big day for next year. This got me thinking, what are some ways to have your day be big, but not blow your budget? Here are some helpful tips on how to save on your wedding!
1.) Don't be afraid to negotiate – I mean, who doesn't love getting more for bang for their buck? All I'm saying, is that it doesn't hurt to ask. You can negotiate price or items when it comes to package and individual deals. For example, you can ask a free upgrade of your hotel stay, catering menu, or open-bar. You can also ask for a discounted prices on flowers, favors, and decoration. My point is, you never know until you ask. And like your mother always said, "There's no harm in asking!" Or was that just my mother?
2.) Casual does not = bad – You and your guest don't have to spend a lot of money on wedding attire to look nice and feel special. Your bridal party can a save some money by agreeing on a color scheme and each person buying their own attire. This way, they can shop and save on their own and use the outfit for than once. Your wedding photos will still look sleek and polished for years to come.
3.) Less is more, people that is – Yes, this day means a lot you. But that doesn't mean you have to invite every person you've ever met in your life to share in your special day. Keeping your wedding small will make it more intimate and save you money on expenses.
Hopefully these tips will help make your big day a little bit brighter, and do not forget to check out our amazing talent to perform on your big day!