Musicians and entertainers have suffered during the COVID-19 pandemic; public health measures have made both private and public events few and far between. As Chicago begins to reopen, it is normal as an entertainer to feel both excited to book gigs and nervous about how they might look different. In this unprecedented time in global history, remember that it is sometimes okay to say no to gigs if you have concerns about your health and safety. Here are some red lights, yellow lights, and green lights to look out for when deciding whether a gig is safe and healthy for both you and the client.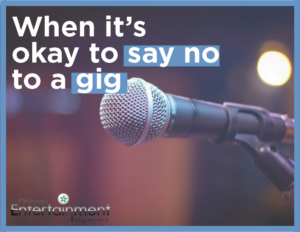 Red Light: When it's okay to say no to a gig
Like any employee's relationship to their employer, a client is responsible for prioritizing the health and safety of both themselves and their hired talent to the best of their ability. If a client asks that you behave in a way that explicitly violates the direction of the Chicago or Illinois Department of Public Health, it is okay to politely decline. Make sure to stay up to date with public health guidelines as Illinois moves through phases of reopening so that you can make an educated decision, and be sure to respect the client's behavior as you'd wish them to respect yours. 
Yellow Light: When to negotiate or reconsider a gig
It is important to have personal rules and guidelines that you can set upfront to a client for both your and their health and safety. A client might ask you to work a gig at which the environment complies with public health guidelines, but you are still uncomfortable with what it might mean for your personal health. If this is the case, suggest the guidelines you set for yourself and ask if they are open to complying with them. Make sure to frame your messaging to make it clear that this measure is for the client's safety as well as your own.
Green Light: Tips that can help you navigate finding gigs during COVID-19
Read up on Illinois and Chicago public health guidelines to see what is allowed. Consider your own comfort level and that of your household. This will help you craft your own rules that you can suggest upfront to the client; organization and transparency will go a long way. If your performance allows you to wear a mask, do so; if not, ensure that the event allows for a social distance of 6 feet to be followed. Lastly, bring your own PPE! Masks, wipes, and hand sanitizer will keep you protected and make the client feel confident and comfortable with your presence. 
Chicago Entertainment Agency makes it easy to find gigs and for gigs to find you; sometimes it's okay to say no; trust that this won't be the last gig you are offered. Make sure to prioritize both your and the client's health and safety, and you are sure to find successful gigs.