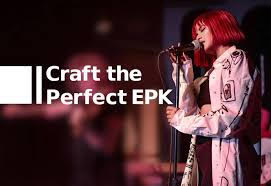 So, when is the last time your band took new photos? Updated your website? Put out a live recording? Let's take a minute and talk band promo. You can be the most talented, killer band, but without the right promotional material It will be hard to book you. Having a professional press kit, or electronic press kit/EPK can be the element that sets you apart from other bands. A successful EPK represents you as an artist, your brand, and your musical identity. What should be included? Let's break it down:
Band bio: Keep it simple. One to three concise paragraphs will do. Your bio should be less about you, and more about the audience experience.
Photos: Official promo photos should be high res.  Include live shots, as well as posed band pictures.
Video: Show us what you do!  A high quality, creative video is key.
Music: Do you have music to stream?  Offer links to Apple Music, Spotify, etc.
Calendar: Let your fans know when/where you are playing.  Offer event details if possible.
Reviews: It wouldn't be a press kit without a little press!  Post links to your best reviews and/or interviews.
Career highlights: Did you perform at a noteworthy venue? Receive an award?  
Social Media: List links to all social media platforms you are active on, and keep them updated.
Contact: Provide an email/phone number for booking inquiries. 
A band can get a ton of mileage out of a great EPK! Not only will you have a better chance of getting booked, but it's one of the best networking tools you'll have at your disposal in the music industry. Invest in good promo for your band! See you at the gig!