As the weather warms, more opportunities for gigs outside will arise! There are a number of variables that are necessary to consider for performing outside. We've put together a complete guide to preparing for your next outdoor gig, filled with things to bring and tips for a successful performance!
Watch the weather.
You and your client should watch the weather forecast for the date or dates you are performing, especially if it will be open-air. If you think it might rain, check with your client to see if they have a rain location or plans to accommodate the weather. You should also make sure that your booking agreement has clear expectations for you and your client in case of inclement weather. In an ideal situation, performers and equipment should be covered, even if it's just from the harsh sunlight.
Dress appropriately (and bring spare clothes if needed).
It can get hot up there on stage! You're under the hot sun, the warm air around you with no relief of a breeze… it's going to get sweaty. Wear looser-fitting clothes in lighter colors, which don't absorb as much heat. Pro-tip: cotton will wick sweat, as will other athletic material! You can also choose to wear different clothes for load-in than for the performance. Work a hat or sunglasses into your gig outfit, just in case you'll be facing the sun. Be sure that your outfit won't inhibit your great performance!
Prepare extra equipment.
Some extra things you may need to accommodate a live outdoor performance include extension cords, power strips, tarps for rain, portable fans to stay cool, lots of extra water, sunscreen, hand towels or rags, and a rug to prevent equipment from sliding. Also, having a spare portable power generator is never a bad idea!
Make sure you have a power supply.
It's good to double-check well in advance with your client about the details of your power supply. Is there a safety-certified power supply close to the performance area? If it's a generator, will it be far enough away from the stage as to not affect the performance? Who is providing the PA? Will there be limitations to running cables within the venue? These are some questions you can ask your client before the event to avoid potential issues.
Know that you'll have to tune often.
Weather and temperature fluctuations while performing outside will make your instruments go out of tune quicker than if you were playing inside. If you can, try to tune between each song to keep everything sounding how it should. Be sure to pay extra attention to the sound as you're outside in the elements to keep in tune.
Use monitors.
If possible, secure a monitor or a few so that you (and your bandmates if you have them) can hear each other well enough over potential wind gusts, ambient outdoor noise, and other sounds that come from playing outside. As stated earlier, it's important to pay close attention to your sound outside with all the extra noise around.
Elevate your merchandise.
If you're able to prepare a table to sell any merchandise you might have, it would be a wise idea to store it off the ground. Even when it hasn't rained, boxes can get dirty, bugs can get in them… gross! Avoid this by at least placing a tarp down, or putting them up on tables or chairs.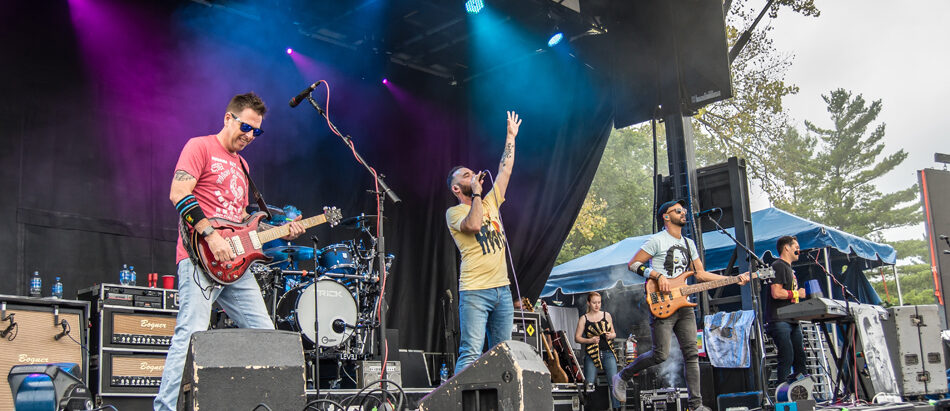 We hope you'll take these things into consideration when you're preparing for your next outdoor gig! Be sure to check out our other blogs at www.chicagoentertainmentagency/blog.