If you're a musician taking your music career seriously, you probably have a website. Great! Having a website as an artist is a great way to showcase everything about you: your brand, your music, and what you offer to your audience. With all of the creative freedom you are given with the control of your website, you might have some questions about what you should include on your website. Look no further! Keep reading for tips on how to build your website as a musician.
Use a website builder. There are several website builders available to use, like Wix, SquareSpace, WordPress, and more. Most of them offer free versions with templates for website-building-beginners, so test a few out to see which platform you like best for your brand.
Include the important pages.

Your website should at minimum have a homepage, an about page, a contact page, and a page for your music. Your homepage is your landing page and should give your audience an overview of you, and should include a great header photo, a brief bio, and your featured music. Your about page can include a more detailed biography, complete with your story, past performances, and testimonials. Include a contact page for people to get in touch with you; be sure to have your email and phone number available. If you have original music, you should also feature it on a page on your website—you can embed links to your pages on music streaming platforms too. If you're a cover band, you can include your setlist here.
Include professional photos and videos.

It may be tempting to use easily-taken smartphone photos and videos for your website, but you will appear much more professional with a gallery of professional-grade photography and videography. Be sure that your photos and videos reflect who you are as a musician/band.

Keep it clean and straightforward.

The goal is for your website to be easy to navigate. You want people to be able to find things quickly and easily, whether it be your contact information or your available music. Organize your website to have a few pages (ideally less than 8) with subpages if necessary. Section out your website with columns or block sections. Break up long blocks of text with photos or spaces. Declutter your site by using a few key colors and easy-to-read fonts, and don't overuse bold/all-caps, which is for emphasis only.

Update it regularly.

It's important not to abandon your website after spending so much effort on it! As you have new photos/videos taken, or as you have more note-worthy performances, be sure to keep your website updated to reflect the best, up-to-date version of you/your band. Bonus tip: update the mobile version of your website too! Make sure your website looks as great on a phone as it does on a desktop.
We hope you use these tips to make your website the best yet! Are there other important things you think a musician should have on their website? Let us know!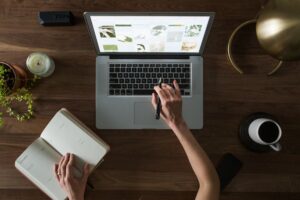 Be sure to check out our other blogs at www.chicagoentertainmentagency.com/blog.