Our wallets were hit hard during the pandemic, but many of us want to get back into the world of entertainment after being stuck in our houses for a whole year. While our streaming subscriptions and YouTube watch lists have served us well (and kept the spark alive), we need to get back in the action of seeing live performances.  Being surrounded by people with the same appreciation for musical talent as you is an inexplicable experience that brings family, friends, and even strangers together – masks, or not.
However, the obstacle to the best and brightest live performances are the tickets, which often soar to hundreds or even thousands of dollars.  A little strategy never hurt anybody, and here are some tips and tricks to score some tickets to get you out of the house without breaking your wallet.
Avoid Ticket Distribution Companies
You know when a concert "sells out?"  This isn't really what's going on.  Instead, ticket distribution giants will sell a select amount of tickets, with the intention of releasing more tickets at a later date.  By doing this, they "sell out" of tickets they are willing to sell – not the actual total amount of tickets.  These companies withhold tickets on reserve – they're just waiting to see who buys during the initial rush to determine pricing later.
If you need to use a distribution company, don't buy during the initial sale.
As noted earlier, distribution companies withhold tickets to make demand look stronger when tickets are initially released for purchase.  Thinking about simple economic theory, "high demand" of the first batch of tickets allows the distributors to raise ticket prices.  Wait some time; a batch of tickets released later will likely be priced lower, especially as the date of the event approaches.
Buy from the official venue.
Buying your tickets in-person is less convenient, but allows you to potentially avoid service charges. According to Rolling Stone, U.S. venues often have their own reserve of tickets for physical ticket sales.  Even the drive and waiting in a line could take some time, it could save you some serious cash.
Investigate your subscriptions.
Newsletters and subscriptions in your inbox (or mailbox!) may hold the secret word for pre-sale and promotional deals.  Follow your favorite artists on social media and subscribe to their announcements for potential deals.  Additionally, check out if your credit cards offer you perks.  You never know.
Purchase day of!
Plans change and unexpected obligations keep fans from concerts.  People often resell tickets for steep discounts hoping to get something rather than nothing for their ticket.  This is definitely a gamble, but don't rule it out.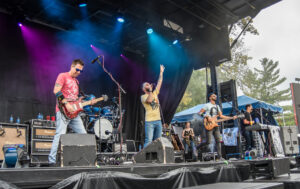 When buying tickets, be strategic.  Yes, it's been awhile since we've been able to enjoy a night out, but you don't need to break the bank just yet to have fun.