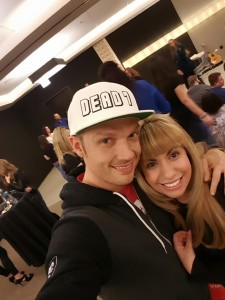 Chicago Entertainment Agency's Mirella Alexis recently caught up with Backstreet Boy Nick Carter on his All American Tour, in support of his third and most recent solo album, All American.
First things first, if you're a Backstreet Boys fan like I am, then you want to know if and when there will be a new Backstreet Boys album? Have no fear, there will be! The Backstreet Boys have six songs recorded and Carter plans to head back into the studio in June or July, once his tour is over to record the rest of the album with his fellow bandmates. They hope to have it released at the end of the year and follow it up with a tour in 2017. If Carter gets his way, the album will have twenty-four tracks in all. Twelve original tracks and twelve acoustic versions of their previous hits to celebrate the twenty-four years the Backstreet Boys have been together.
As for Carter's latest effort, he says there is a little piece of truth in every song, and some more than others. The eleven-track album has a little bit of everything from the ballad, I Will Wait to Get Over Me, a Pop duet featuring Avril Lavigne. There's even the crazy Rock tune, Tijuana. If you're wondering if Carter could ever survive in Tijuana, rest assured his "Gracias por todo, Te amo and Tu eres bonita" was enough to put a smile on this girls face. But I digress, lets focus back on Mr. Carter and a few of his favorite things. Other than creating music and performing for his fans, Carter likes to escape into video games and movies. In fact, he has his own movie, Dead 7 coming out on April 1st which he wrote, produced, and stars in.
When he is not letting the creative juices flow, Carter can be found cheering on the Tampa Bay Buccaneers. If it was up to him, he'd like to be known as the biggest Bucs fan and often expresses his feeling on Twitter. As far as his favorite Backstreet Boys song, you may be surprised to learn it's not one of their biggest hits, but Make Believe from their last album, In A World Like This. When asked how he feels being a big brother in his family and his role as the little brother in the Backstreet Boys, he says it's a strange dynamic, but one he feels blessed to be part of and wouldn't change it for the world.
After catching up with Nick, he went on to put a crowd-pleasing, high-energy 90-minute show featuring Backstreet Boys songs old and new, solo songs, and covered classic hits Rocket Man, Jessie's Girl, Wonderwall, and In the Air Tonight. Some of the older Backstreet Boys songs were done in a new arrangement, something Carter loves since singing the same songs for over twenty years can become tiresome. The show ended with Carter declaring his love for Chicago and his promise to return to our wonderful city soon.
Until next time, check out Carter's new album, All American.
Don't forget to check out our performers that play Backstreet Boys covers!