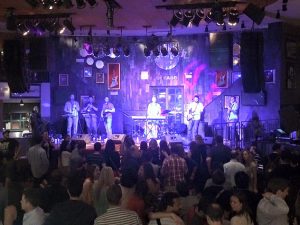 CEA is comprised of many talented artist and today we getting to know, Rhythm Method.  They are one of Chicago's premier Classic Rock cover band. A seven-piece, energetic rock cover band. They perform hit classic songs and deep tracks from the '60s (Beatles, Stones, Zeppelin), '70s-'80s (Petty, Mellencamp, Springsteen, Queen, Van Morrison, Paul Simon), '90s (Cake, Sublime, Weezer), and much more. Based on the North Side of Chicago, the band consists of piano, guitar, bass, drums, and brass. They play wonderful songs of the past the way they should be played in the present. No silly outfits. No rapid-fire medleys. No ironic covers. No gimmicks. Just great music played by great musicians.
Rhythm Method's friend and fan base is strong, as the members are all local young professionals in their twenties/thirties, playing in and around the city. This past year, Rhythm Method performances regularly brought in a crowd of over 100 audience members. Recent shows include Hard Rock Cafe, Abbey Pub, Cubby Bear, Elbo Room, Uptown Lounge, Goose Island, Reggies, HVAC, Mothers, and more. The band is also experienced in playing outdoor fests, weddings, and serving as the house or backing band for multi-artist lineups. Professional references in the Chicago music scene can testify to Rhythm Method's quality performances.
Recently I got to speak with Vince Versaci, who plays guitar, vocals, and harmonica in Rhythm Method. He told me how the band came to be and what they hope for the future. At the age of 17, Vince won his high school talent. From then on her entered more local contests and won. Then in April, 2004 Rhythm Method was born, based on the love Vince and his friends had for the music they grew up listening to. Eric Nyberg, who plays piano, vocals, and guitar grew up playing classical piano. As a pianist and having done recitals, Eric brought another dynamic to the band, not to mention his great voice.
The band values a venue that has a great sound team and having a good crowd. Vince's favorite part about performing is "when everything sounds as perfect or as awesome as the original, and you capture that magic. When you can sound like the music you love." Vince loves being in a band with the "best group of guys." As they continue to grow, they hope to book bigger venues and gigs further in advance. They would also like to expand their fanbase and go into the studio to record covers and originals. But in the meantime, Rhythm Method is having as much fun as their fans are when they play live. And they just want to keep it going, like Vince said, "do the songs justice. No gimmicks, play them like the first time you heard them."
That sounds good to me. Play on, fellas. You make CEA proud!