One thing 2020 really demonstrated was just how much everyone loves live music. Something about the adrenaline rush from the booking of the tickets to the actual performance feels people with a feeling only to be described as electric. As the pandemic continues into 2021, many event planners have had to stretch their creative muscles to once again bring us the live performances we love with the proper safety precautions we need. 
Finland: Suvilahti Summer Event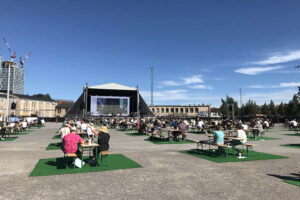 Helsinki, Finland, kicked off their first Suvilahti Summer series to showcase the best in Finnish music and film this past Summer 2020. Picnic-style tables and benches were set up six feet apart with boundaries, allowing concert goers to comfortably sit alongside their companions and have plenty of space to set down their beverages while enjoying the show.
Belgium: Rock Werchter Zomerbar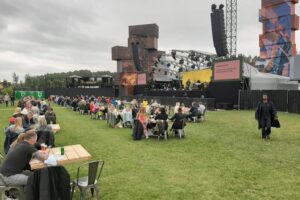 Rock Werchter, Belgium's largest music festival, typically features big international headliners as well as new local talents. This year, the event looked slightly different — and still ended up being a massive success. Tables and chairs were positioned on the grassy field, giving it the ambiance of a sunny, spacious club that guaranteed everyone their own special VIP spot. Around 400 people at a time were able to kick back and take in a show featuring some of the country's top performers. In total, the Rock Werchter team pulled off thirty-six concerts throughout the month of July with this setup. 
Netherlands: Open Air Theatre Bloemendaal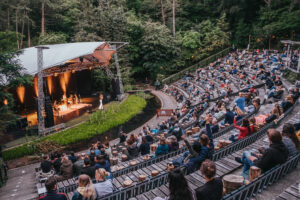 In the nearby Netherlands, the gorgeous Caprera Open Air Theatre was back in business in no time, thanks to its tucked-away-in-nature location and classic semicircle tiered seating. Cross-section slices of tree trunks separated groups of people, creating a whimsical feeling like the forest was enjoying the show too and adding to the atmosphere of a secret, intimate woodlands setting. 
 The UK: Virgin Money Unity Arena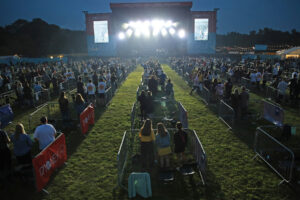 The UK's first socially distanced concert took place in August at the Virgin Money Unity Arena, a new pop-up venue in Gosforth Park, Newcastle upon Tyne. The area allowed for 500 viewing spaces that could fit up to a total of 2,500 people. Concert attendees parked their cars a safe two meters apart before they were guided to their own private viewing area. 
For more information and ideas on Events during COVID please visit us here!